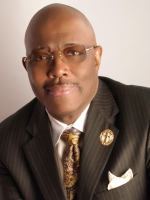 Pastor & Founder
(860) 242-2627
(860) 698-1916
Apostle John E. Wilson, a native of South Carolina, was called to the Ministry at an early age while attending school in Washington, D.C. He was ordained in 1958 and began pastoring in the same year.  In the year 1964, Apostle Wilson organized and founded St. John's Full Gospel Deliverance Church which is now located at 27 Brown Street, Bloomfield, CT.
Apostle Wilson is considered by many to be a dynamic and anointed man of God.  His outreach ministry continues to "Reach the Lost at Any Cost."  God has anointed Apostle John E. Wilson and he preaches the uncompromising Word of God.  He lives under the influence of principles and shows the power of character.
Through the Supernatural anointing of God, Apostle Wilson has ordained and consecrated men and women for the work of the ministry.  He is a spiritual father and mentor for many in ministry today.
Apostle John E. Wilson is a prolific preacher, teacher and writer. He has penned two books, "Understanding the New Birth" and "What's Right with the Church". Both books will impact the life of the reader, whether a newly converted Christian or a Christian desiring a closer and deeper understanding of their walk with Christ.
Apostle Wilson has traveled throughout the United States and abroad preaching and teaching the Word of God.  He serves as Apostle and Overseer for eighteen ministries which are located in various parts of the United States Trinidad, West Indies and St. Kitts.
 God has highly favored Dr. John E. Wilson and has anointed him to minister to multitudes, the word of knowledge, the word of wisdom and impart the laying on the hands, vast signs, miracles and wonders follow his life as he teaches and preaches the uncompromising Word of God.